My email industry colleagues Dennis Dayman, Ryan Phelan, and I recently wrapped up the DMA Email Experience Council's annual EEC Email Evolution Conference. Over 500 people came to New Orleans for three days of boot camps, presentations, panels, and a series of amazing keynotes—a confab that represents the state of the art in email marketing. It was fantastic. Still, as anyone who's organized a big event will understand, when it was all done, first came a feeling of relief, followed by elation, that every single speaker showed up and that we had no major catastrophes. Then finally came reflection. That's the part I'd like to share with you: some of what I learned at this year's EEC.
Keynotes
As the program chair for Email Evolution, I had a simple mission for choosing keynote speakers: I wanted throught provoking speakers, regardless of their industry or focus. My goal was to put someone on stage that would challenge not only our marketing brains, but also the part of us that resonates with stories of the human condition and our place in a world filled with living beings.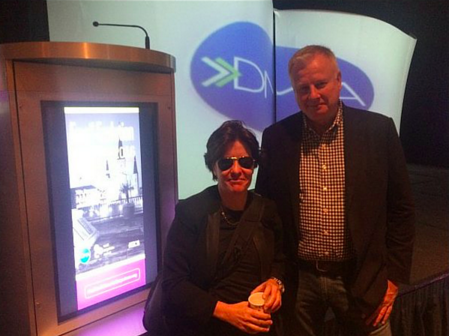 Kara Swisher of Re/Code started us out on the right foot: she gave us a sense of what's coming down the technology with 10 trends including these gems captured on Twitter (hashtag #EEC16)…
Email Experience @theeec
"Cars are really the original mobile device." @karaswisher #eec16
Hannah Patterson @HansMcCain
It will be about what you are Wearabling! #trends #clothesthatspeaktoyou #stepitupAppleWatch #needanewfitbit? #EEC16 @julie Graham #Blue…
Shauna Plesmid @ShShauna
@karaswisher "your brand needs to be genuine. There's tons of info on Internet, you don't want any questions as to who you are" #EEC16
Len Shneyder @LenShneyder
Brand are the new social status. We are obsessed with brands says @karaswisher #EEC16
Email Experience @theeec
On deep learning: "Computers will be more accurate at diagnosing your illness than a human being will." @karaswisher #EEC16
Bradford Johnson @BHJnow
Kara Swisher says marketers should get and understand AMZN Echo #EEC16
Email Experience @theeec
On Millennials: "Even though they pretend they can't stand brands, they love brands." @karaswisher #eec16
Closing out the first day was Patrick Scissions, Chief Creative Officer at Grey Canada. Patrick's keynote highlighted creative approaches to difficult subjects ranging from abducted children to gun control. Grey Canada has taken on extremely difficult projects, sometimes pro-bono, because they believe advertising can change the world. They've produced iconic content such as the famous Guns With History video by opening a faux gun store in NYC and filming people's reactions when they learned the history of the weapon in their hands.
For the final keynote, I wanted to switch gears by moving away from the familiar and diving headlong into unfamiliar territory—even throwing away the map altogether. So, I was thrilled that Kelly McEvers, co-host of NPR's All Things Considered, could speak. Kelly previously was mideast correspondent for NPR News and the network's Beirut bureau chief. She has seen the face of war, ridden in the back of a jeep with rebels in and out of Syria, to help us understand what's happening beyond our local and regional borders. Kelly's talk was focused on what happens when the checklist goes out the window. What do you do when your carefully laid plan, that checklist of things you bring, or do, or expect goes up in smoke? What then? We've all had this happen, but in the case of a war correspondent, when a check list goes out the window it could mean the difference between life and death.
I'm not sure anyone really knew what to expect from this talk; I knew that Kelly would deliver it with a mixture of humor, seriousness, and deep compassion. For 45 minutes we were able to hear a much bigger picture than our marketing world, only to return with more empathy and a touch more humanity in our corner.
Jake Strang @JackStrangeNYC
"All those 20 yr old [activists] are 25 now. They have better technology and they are going to use it." @kellymcevers #eec16
Ryan Phelan @ryanpphelan
Thanks soooo much to @kellymcevers for the opening keynote at #eec16. Inspirational message and wonderful person!
Alessandra Souers @asouers
Regarding her professional habits: "Some would say it's a problem; I say it's a pattern." Stealing this from @kellymcevers. #EEC16
Alyssa Wright @abwright620
"If you're curious about something, go for it." – @kellymcevers #EEC16 #girlboss #inspiringwomen #womenimpactingtheworld #morningmotivation
Nancy Calaway @NancyCalaway
'Sometimes you have to make something out of nothing' @kellymcevers at #EEC16 thnx for the inspiration
Jessica Best @bestofjess
How do you keep going into situations that would make normal people curl up in a ball of fear?
"Because of the people who fight." #EEC16
Alex Krylov @akrylov
Powerful, brilliant. Kelly McEvers on what happens when your work "checklist" goes to hell. #eec16
Similarly, at the 2015 DMA &Then conference, singer John Legend delivered a stirring keynote about equality; he highlighted his own experiences growing up as African-American citizen and the hurdles of racism he encountered on the road to his own personal success. He's an activist and gives back to his community. Although he's as far from a marketer as you can possibly get, he, like the rest of us, is part of this thing called the human race. To me a keynote's main job is to inspire and challenge, and to be perfectly frank, it doesn't matter if that challenge and inspiration has anything to do with your industry. We all read, tweet, meet and spend hours of time focused on our jobs. For the lucky ones, our vocation is also something of an avocation, or at least you have passion for what you do. To be challenged by people that have done remarkable things in fields completely removed from our everyday lives makes us work harder; we have to find and draw the connective tissues between their experiences and our own. Challenge and inspiration from beyond the pale is the start of a conversation that will hopefully lead to our own personal and professional success and hopefully we have the opportunity to give something back.
In the next article I'll talk a bit about the EEC Email Evolution Conference 2016 content and how you can get involved with the email evolution conference…