From time-to-time, we do a deep-dive on a single brand, not a client, whose business and emails we find especially worth exploring.
Since its 2002 launch from a co-founder's spare bedroom, Wayfair has grown into a major ecommerce force.  Its 2018 sales are forecast to be $6.6 billion, supported by a workforce of nearly 10,000, offering 10 million online home furnishings products, many in categories not heretofore thought to be strongly compatible with online selling.   Its employee recruiting targets are more likely to be MBA or PhD data geeks than conventionally trained merchants.  Wayfair is not yet profitable, but . . . neither was Amazon for many years.  (Source:  Boston Globe, 8/7/2018)
So . . . we thought it might be worthwhile to investigate how Wayfair uses marketing email to tell its story and drive its business.  Bottom-line:  Wayfair has wide audience exposure and mails heavily, but drives only slightly above average read rates.  Nevertheless, their best-performing campaigns are tightly targeted, curated by merchandise items or categories, and drive 20-30% read rates.
We benchmarked Wayfair's email activity against that of seven other well-known retail brands specializing in key merchandise categories Wayfair sells.  The table below provides comparative data on audience size and overall engagement, along with this year-over-year (YOY) email campaign data for a ninety-day period ending August 31st.  Highlights:
Audience: Wayfair's overall projected email audience of almost 53 million is the largest of the eight brands, and twice as large as that of next largest, Bed Bath & Beyond.  In terms of recent email engagement,  Wayfair has the third most active audience, behind those of  Bed, Bath & Beyond and Crate & Barrel.
Emails: Wayfair's email campaign and circulation counts are much bigger than everybody else's.  YOY, both activity metrics have grown for all brands, except Pottery Barn.
Inbox Performance: Wayfair maintains strong (>90%) deliverability, as do four other brands.  YOY, only Ikea did not improve its inbox performance.
Read Rates: Wayfair's average read rates (13%) are only fourth strongest in a group where the range extends from 12% (Restoration Hardware/Ikea) to 19% (Pier 1).  YOY, read rates have declined for all of these brands.
Note (Not shown on table): Wayfair's emails are highly targeted.  Almost 70% of the brand's email campaigns have individual send sizes under 100K; 30% are under 25K.  However, Wayfair also appears to maintain almost daily subscriber contact frequency, which cadence many customers consider over-mailing, thus possibly explaining Wayfair's less than leading read rate and subscriber engagement recency metrics.
Wayfair Email Audience Overlaps
Overlap analysis provides useful insights into who's competing with Wayfair in its customers' inboxes, and thus suggests both a profile of those customers and opportunities for further contact and lookalike acquisition.  Of note:  Amazon, Walmart, Target and Home Depot (see below) are all developing strong online home furnishings businesses.  The breakout below the graphic shows key overlaps by business category.  Not all are shown on the graphic.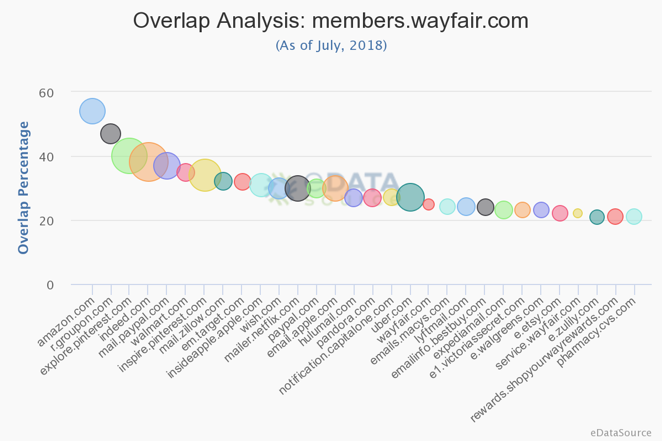 Top Five:

Amazon (54% of Wayfair audience overlaps)
Groupon (47%)
Pinterest (40%)
com (38%) {job search and recruiting site)
Paypal (37%)

Select Key Retailers:

Walmart (35%)
Target (32%)
Macy's and Best Buy (24%)
Overstock (21%)
eBay (19%)
Home Depot (18%)
Bed, Bath & Beyond (17%)
Williams-Sonoma (11%)
Pottery Barn and Lowe's (10%)
Ikea (8%)

Social/Review Sites:

Yelp (19%)
Instagram and TripAdvisor (17%)

Job search/recruiting:

jobs.net (17%)
careerbuilder.com (16%)
com (15%)
com (12%)

Entertainment:

Apple and Netflix (30%)
Hulu and Pandora (27%)
Ticketmaster (21%)

Travel/Transport:

Uber (27%)
Lyft (24%)
Expedia (23%)
com (20%)
com (13%)
Examples of High Performing Emails
The table below shows fifteen examples of high performing Wayfair emails, ranked in order of their read rates.  These reflect:
Highly targeted quantities in relation to a total audience size of nearly 53 million.
Most subject lines personalized to very specific merchandise items or categories
Relatively limited implicit or explicit price-promotion.
Implicit content curating, even where specific items or categories are not mentioned (e.g., campaigns of 7/8 and 7/4)
| Date | Subject | Quantity (000) | Read % |
| --- | --- | --- | --- |
| 22-Aug | Hurry! Runners are under $50 for a short time. | 73.9 | 34.0 |
| 8-Jul | QUICK! An item in your cart is very popular | 237.8 | 33.8 |
| 4-Jul | You NEED to see these styles we picked just for you! | 209.3 | 33.6 |
| 6-Jun | Boho Accessories: Shop eclectic additions for any room | 65.3 | 32.5 |
| 3-Jun | Best of Home Accessories: Shop our TOP picks! | 69.8 | 31.8 |
| 13-Jun | Sideboards + servers up to 55% OFF. Host with the most! | 69.8 | 31.7 |
| 27-Jul | Bars & Wine Bars | 92.5 | 31.6 |
| 21-Jun | Water you looking for? Find fountains here | 61.9 | 31.6 |
| 7-Jun | Patio seating SALE. Yay, summer savings! | 130.5 | 30.7 |
| 20-Jul | Garden picks|Gazebos, pergolas, trellises, etc. | 86.7 | 30.2 |
| 7-Jun | Sofas? Accent Chairs?… Shop upholstery here! | 334.1 | 28.7 |
| 12-Jun | Keter storage? Long-lasting. This SALE? Going fast. | 197.2 | 27.8 |
| 17-Jul | 3 for $30 kitchen solutions! Pick 3, pay less | 265.7 | 26.8 |
| 18-Jun | Want a $500 shopping spree at Wayfair? | 353.0 | 26.5 |
| 21-Jun | Sheds & Structures: When it rains, it stores! | 69.8 | 20.9 |
~ John